Celebrating 26 years of Growing Passions!
Join us for the 1st Home _ Garden Show of the season March 6 – 9 , 2014.  Experience a celebration of vibrant colours and imagination with hundreds floral styling's, exotic plants, magical displays, award winning gardens creations and outstanding shopping!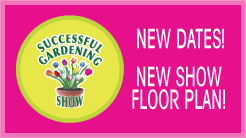 Everything for the Gardening Enthusiast! 
SUCCESSFUL GARDENING SHOW Whether you are a beginner or expert, see what's new at the Successful Gardening Show, as there's always something for the entire family!